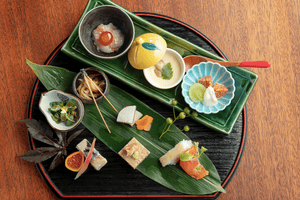 Reservations
Indulge in 5-courses Omakase of Japanese fine cuisine, in a comfortable semi-private dining room.  Our chefs carefully crafts delicacies and the freshest fish in Berlin with highest quality ingredients are beautifully presented.  
IN-HOUSE DINING Reservation
Indoor pop-up
Make a reservation to
indulge in our 5-Course Omakase Degustation Menu or drop-by for casual snacks and Sake flights.
Unfortunately, our beautiful Johannisstraße dining room was destroyed by demolition and construction works
being performed
by the building owner.
While working to relocate
the entire restaurant to
a new location,
we are welcoming guests at our cozy pop-up indoor dining room on Auguststraße 11.
If you're nearby,
please come visit us :-)

Any catering inquiries,
please reach out to us;

+49 30 2463 0810
contact@zenkichi.de

Thank you so much
- ZENKICHI Team